7 Reasons Why You Should Get A Private Tour Driver In Bali
Wondering if you should hire a private tour driver for your holiday in Bali? Read to find out why you totally should! Read more.
Bali is ready to welcome tourists, but what are the COVID-19 measures to follow?
Tourists are now welcome to Bali. Find out what you must know the COVID-19 measures before travelling to the beautiful island. Read more
Barong and Keris Dance
Barong and Keris Dance is a battle between good and evil spirit. Barong is the enemy of Rangda in the mythological traditions of Bali. He is the king of the spirit, leader of the hosts of good. He is often represented by a lion and traditional performances his struggles against Rangda area popular of Balinese culture.
Tohpati Village
Tohpati Village famous for Bali's batik hand weaving center. Batik is a traditional form of painting fabric. It's the perfect place to stop for having Bali Shopping Tour in this village. You can see how they painstakingly use dots and lines from wax to decorate the cloth. It is very impressive to watch.
Celuk Village
Celuk village is the famous village in bali as a tourist destination cause of the local residents is very proactive and full innovation of gold and silver crafting. The production of gold and silver at this village have penetrated to the local, national and international market.
Batuan Temple
Batuan Temple is a beautiful Hindu Temple set in the middle of Batuan Village. This temple is beautifully designed with Balinese architecture and antiques Balinese ornaments décor entire temple building including the entrance gate.
Mas Village
Mas Village is a village of art with focus on carving of wood sculptures. It is situated in Ubud district and Gianyar Regency. It has a distinctive style in the art carving of wood sculptures that promotes characteristic synergy of humanism and naturalism.
Painting Village
Paintings of Bali have experienced remarkable evolution. Traditionally another means of expressing religious and mythological ideas, painting of Bali have been subjected to a number of influences, including deep interaction with westerns painters who came and lived in Bali. As with any other artistic expression found in the island, these influences have been uniquely adapted into Bali's personality, creating new nuances and styles of paintings that are distinctly Balinese.
Tirta Empul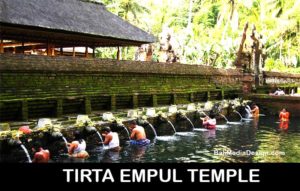 Tirta Empul is an important temple complex and holy spring, located in the village of Manukaya. The site tell about the legendary setting of a traditional tale about good versus evil. It is also a national culture heritage site.
Bali Coffee Plantation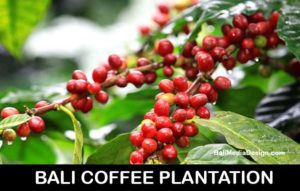 Bali coffee plantation is one of the new tourist attraction in Bali usually is located in the mountain area. The famous and the expensive coffee area fastest growth in this island is called by luwak coffee (mongoose). The coffee produced from the fermentation process that take coffee bean and remove trough the anus.
Monkey Forest
Ubud monkey forest is a small rain forest dwelt by some group of monkeys and other tropical animals. It is strategically located in the hearth of Ubud village, monkey forest itself own very important function of the continuity the monkey habitat in Bali.
Uluwatu Temple
Pura Luhur Uluwatu is one of the top places on the island to go for sunset, with direct views the beautiful Indian Ocean. In this temple also hundreds of monkeys dwell here. They are believed to guard the temple from bad influences. And because of that, Dhang Hyang Nirata, the holy priest come to Bali to teach Hindu, then choose Uluwatu Temple to be his spiritual journey's final worshiping place.
Ulun Danu Temple/Beratan Lake
Beratan Lake is situated in the plateau area with cool atmosphere surround it. It is a deal place for relaxation while enjoy the beautiful panorama of lake. The accommodation are also available in this area where is the perfect place for everything stay, resting and enjoy the beautiful panoramic of lake with the Ulun Danu Temple as a magnificence.
Tegalalang Rice Terrace
Ceking Village Tegalalang is one of tourism object in Gianyar regency where this tourism object is famous with beautiful rice field scenery with terraces. Ceking Tegalalang Village is located in the district of Tegalalang, Gianyar regency approximately 10 km from Ubud. In this tourist attraction we will see the scenery of rice fields with terraces that look beautiful. In addition, if we visit here right at the time of planting season we can see firsthand the rice farmers are planting the rice. In this place we can also see farmers who do their daily activities in the fields one of them is mowing the grass